Destinations
FULL DAY
– Full day trips are where you book the boat and can bring along up to six people. Full days depart Coral Bay at 8:30am and return by 4:00pm. On a Full Day we can do a circumnavigation of the island, visit the cays to the north or the south in Pillsbury Sound, or head down to Water Island. Stop for lunch at Lime Out, Cruz Bay, or over on St Thomas/Water Island (my favorite option – pack a lunch and eat in a uninhabited cove). If you want, you can even add a dive to a full day trip!
HALF DAY
– Half day trips are four hours (either 8:30am – 12:30pm or 1:00pm – 5:00pm) that stay "local" to the eastern half of St John. Half day trips are great for groups with children that may not appreciate a full day on the water, or adults that want to get out on the water and do some snorkeling but be back to land in time for lunch at Skinny Leg's or Lime Out… or for groups that just want to save some money on a snorkel excursion.
SCUBA DIVING
– We offer Two Tank Day, One Tank Night, Two-for-Two, Discover Scuba (for non-certified divers) or can add dives to a full day snorkel trip. We also have phenomenal PADI Instructors that can get you newly certified or advance your certifications in a few days.
Around St. John
Maybe we are bias – we live here and you spent a lot of time and money getting here – but we love St John. Let's spend the day around here!
There are a ton of small coves and hard to reach snorkel destinations around St John. Let's pack a lunch and a couple of beers in the cooler. Let's grab our snorkel gear and rash guards. Let's go looking for turtles, sting ray, sharks, lion fish. Let's go explore them all, or just spend the day limin' away in a quiet bay.
At the head of Coral Bay is the
Lime Out.
It's a floating restaurant serving tacos and craft cocktails only accessible by boat. Lime Out can be visited as part of a half day trip or full day trip.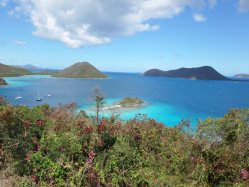 St Thomas/Pillsbury Sound/Water Island/Buck Island
That's right! There are things to do on and around St Thomas. No need to deal with customs and they even have beach bars like Jost.

Due South of St Thomas' Charlotte Amalie is Buck Island, home of Turtle Cove – a small sandy bottom bay filled with Turtles. Right around from Turtle Cove is the wreck of the Cartanzo Senor, a ship that was floundered in Charlotte Amalie harbor fourty years ago.

In Charlotte Amalie harbor is Water Island. Water Island was formerly owned by the US Government, but in the late 90s was returned to private ownership. Water Island is a cool place to hang out and explore (consider renting a golf cart to go check out the WWII fort!) – it is also home to Honeymoon Beach, the USVI's answer to Jost Van Dyke's White Bay. On Honeymoon are two restaurants/bars, Heidi's Honeymoon Grill and Dinghy's Beach Bar.
BVI
Over the course of several years there has been an uptick in costs associated with traveling to and from the BVI. In addition to the cost, the hassle has increased significantly. For these reasons, plus a sharp decrease in BVI bookings, we no longer offer private day trips to the BVI. If the BVI is where you have your heart set on getting to - we highly recommend
Flyaway Charters
out of Coral Bay and
Island Roots Charters
out of Cruz Bay.