Destinations
FULL DAY
– Full day trips are where you book the boat and can bring along up to six people. Full days depart Coral Bay at 8:30am and return by 4:00pm. On a Full Day – US we can do a circumnavigation of the island, visit the cays to the north or the south in Pillsbury Sound, or head down to Water Island. Stop for lunch at Pizza Pi, Cruz Bay, or over on St Thomas/Water Island (my favorite option – pack a lunch and eat in a uninhabited cove). If you want, you can even add a dive to a full day trip!
Over in the BVI, we can explore some wonderful snorkel sites like the Indians and Caves, lime it on uninhabited islands like Sandy Spit, cozy up to the bar at the Bee Line, or grab lunch from the famous Foxy's… just to name a few.
HALF DAY
– Half day trips are four hours (either 8:30am – 12:30pm or 1:00pm – 5:00pm) that stay "local" to the eastern half of St John. Half day trips are great for groups with children that may not appreciate a full day on the water, or adults that want to get out on the water and do some snorkeling but be back to land in time for lunch at Skinny Leg's… or for groups that just want to save some money on a snorkel excursion.
SCUBA DIVING
– We offer primarily private diving – Two Tank Day, One Tank Night Diving, Discover Scuba Diving (for non-certified divers) or can add dives to a full day snorkel trip. We also have two phenomenal PADI Instructors that can get you certified in a few days.
Around St. John
Maybe we are bias – we live here and you spent a lot of time and money getting here – but we love St John. Let's spend the day around here!
There are a ton of small coves and hard to reach snorkel destinations around St John; Flanagan Island, Newfound Bay, Tektite, Eagle Shoals, and Pelican Rock to name a few. Let's pack a lunch and a couple of beers in the cooler. Let's grab our snorkel gear and rash guards. Let's go looking for turtles, sting ray, sharks, lion fish. Let's go explore them all, or just spend the day limin' away in a quiet bay.
Leave the passport at home. Forget about those over inflated fees and long lines at customs. Forget the extra fuel cost. Forget about the crowded anchorages filled with drunken tourists.
A new (March 2019) addition to Hansen Bay on the east end of St John the
Lime Out.
It's a floating restaurant serving tacos and craft cocktails Tuesday-Sunday 11:30-5pm. Only accessible by boat, float, or paddleboard. Can be visited as part of an afternoon half day trip, or at the end a full day trip. Lime Out is currently closed for the off season and will be reopening October 1.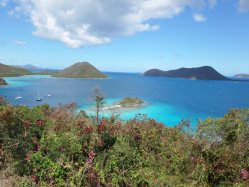 St Thomas/Pillsbury Sound/Water Island/Buck Island
That's right! There are things to do on and around St Thomas. No need to deal with customs and they even have beach bars like Jost.

To the SE of St Thomas there is Christmas Cove with everybody's favorite pizza boat, Pizza Pi! Pizza Pi is currently closed for the off season and will be reopening in November.

Due South of St Thomas' Charlotte Amalie is Buck Island, home of Turtle Cove – a small sandy bottom bay filled with Turtles. Right around from Turtle Cove is the wreck of the Cartanzo Senor, a ship that was floundered in Charlotte Amalie harbor fourty years ago.

In Charlotte Amalie harbor is Water Island. Water Island was formerly owned by the US Government, but in the late 90s was returned to private ownership. Water Island is a cool place to hang out and explore (consider renting a golf cart to go check out the WWII fort!) – it is also home to Honeymoon Beach, the USVI's answer to Jost Van Dyke's White Bay. On Honeymoon are two restaurants/bars, Heidi's Honeymoon Grill and Dinghy's Beach Bar.
BVI
In spite of my pushing to stay local – I will admit you can make a fun day out of the BVI. Just bear in mind, it is going to cost more and a portion of your day will go to clearing in and out of customs/immigration between the two countries.

Jost Van Dyke is a tiny island of roughly 200 inhabitants and more bars than I could possibly name – Sedy's One Love, Gertrude's, Ivan's, Foxy's, Sydney's, Abe's, Foxy's Taboo, Bee Line Beach Bar (Ok, this is on Little Jost). There are the bubbly pools, a "natural jaccuzi" that starts ripping when the winter swells fill in. There are also Sandy Spit and Sandy Cay, two uninhabited bits of sand in the middle of the ocean.

Norman has one establishment – Pirate's Bight. Pirate's is a classy sit down establishment with a beautiful beach front. Also on and near Norman are some killer snorkel sites, the most famous being the Caves and the Indians.

Peter Island – Peter Island is the new home to the new Willy T bar and restaurant. The previous incarnation of Willy T was destroyed in Hurricane Irma in September 2017. The owners purchased a new boat and found a new location off Peter Island.

There are a number of other places to check out – Cooper Island, Peter Island, Marina Cay, Scrub Island all have restaurants and places to lime away an afternoon. Salt Island has the world famous Wreck of the Rhone. Tortola has a number of marinas to pull into and Cane Garden Bay is home of Myett's and Quito's bars. CGB also has the oldest continuously operational rum distillery.

Then there are the Baths and Virgin Gorda. Here is the deal with VG – it is a long way to go in a 26′ boat. You have to plan on over an hour to get down to Spanish-town, which is still the most sensible place to check in coming from Coral Bay, because you are adding an hour to you trip to go anywhere else. Spanish-town requires everyone comes off the boat and walks through Custom's individually (West End and Jost you can stay on the boat until the officer's say it is cool to roam). Virgin Gorda is just about due east from St John, which means you are beating your way into the waves to get there. In the winter, the Baths are overrun with tourists, so plan on about an hour for exploring and another hour for standing in line waiting to go up and down a staircase or to get a picture in the Grotto without 13 extremely pale photo bombers. Assume at least half of your day will be spent getting to and getting around the Baths.

Yes, we will go to Virgin Gorda if you want and the weather is conducive, but we can't promise it until the morning of. So if you are dead set on the Baths, you should go with a larger boat – check out Born to Rhumb or Pirate's Penny, they are our favorites.